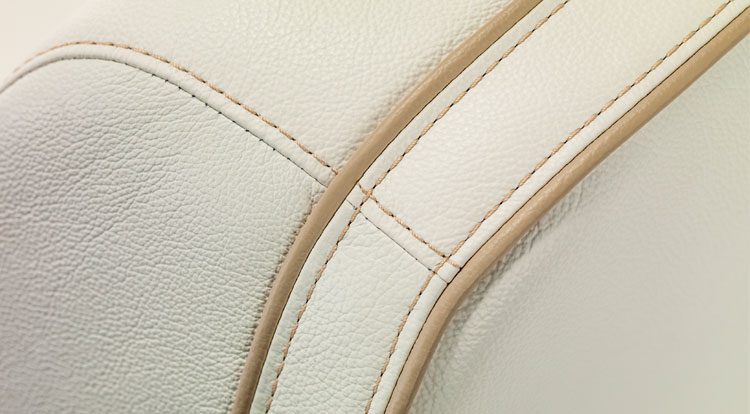 LEATHER INNOVATION
XTREME® Collection-Upholstery
The innovative leather of the XTREME® Collection was developed by BOXMARK, one of the world's leading manufacturers of high-quality upholstery leather. It is oil and water-repellent and stain-resistant. Furthermore the patented formula ensures greater UV resistance. Thanks to its higher abrasion resistance values XTREME®is a low maintenance upholstery leather suitable for numerous applications.
---
XTREME® Collection-Furniture
THE OCEAN BREEZE COLLECTION
The award-winning pieces of the collection combine clear design and luxury details. You recognize good taste by the ability to continuously resist exaggeration.
This unwritten law of design is reflected in the clear lines of the "Ocean Breeze" collection. Yet, luxurious details were not forgone.
The collection includes a sun lounger, as well as a table and chairs. The premium outdoor furniture can be folded, stacked and therefore be stored in a space-saving manner.
SUN LOUNGER
CHAIR
TABLE
SUNPAD LEATHER /TRIM COLOR COMBINATIONS

FRAME COLORS
---
THE DIVINE LOUNGE COLLECTION
The collection is impressive due to its contemporary interpretation of classic shapes and, on account of its puristic elegance it can be integrated into a modern context without difficulty. Due to the fine handcrafted details, it also perfectly complements a classic interior.
The ergonomically optimized lounge furniture offer a high-end comfort level of the seat, providing an exclusive and at the same time relaxing indoor and outdoor living ambiance.
The individual elements of the collection – sofa, armchair, ottoman and table – can be combined in a flexible manner. The upholstery of the furniture is easy to remove, making the handling particularly simple.
SOFA
ARMCHAIR
LEATHER /TRIM COLOR COMBINATIONS

FRAME COLORS
---
CASINO ROYALE
Style is the art of understanding the details. The set, consisting of a bar stool and a bar table, is impressive due to its shape and its exclusive details.
The braided components are created in high-end handicraft, adding a classy appearance to the collection.
The "Casino Royale" deluxe ensemble brings unobtrusive elegance to any bar – be it indoors or outdoors.
BAR STOOL
LEATHER /TRIM COLOR COMBINATIONS

FRAME COLORS
TABLE
TABLE LEATHER COLORS
FRAME COLORS